Hi guys and gals
Hopefully you won't consider this spam, as this is my first post here. I wanted to say, that I just completed a game titled
Slide Them Boxes
, which I'm really happy about and proud of.
What's it about?
Well, it's kind of an old-school puzzle-game, where you control this little character on screen and he can push or pull colorful boxes. These boxes have to be moved onto a tile of the same color. Do so for all boxes and you complete the level. Sounds simple? Oh, no, not at all. As with games this kind, the further you get, the more difficult levels become. And you'd want to complete the level in as few moves as possible, if you want to get into the high-score list.
What does it look like?
In a nutshell, like this (click on the thumbnail to see full-size):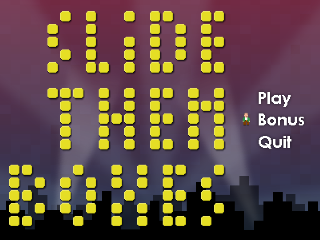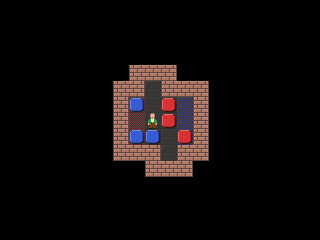 Where can I get it?
You can get it for both Windows and Mac
HERE
What else have you done or what are you working on?
I have a small personal-portfolio-kindof-pageamathingy, that contains all my past and future projects. You can take a look at it
here
That's all for now I guess. I really hope you like the game. It should provide enough of a challenge for all players. If you have any questions or comments, please let me know. I'd love to hear what you think. It's a free game into which I put quite a lot of time and effort, but I like to think it's been worth it. So, if you feel like donating a dollar or some, please, do so

Info about all that can be found on the website.
Thanks and all the best,
Eigen