Mark and Mandi's love story online
From Big Fish Games:
A find the difference game with a progressive story and other puzzles thrown in.
Solve the puzzles and help Cupid get the lovebirds together.
Play Here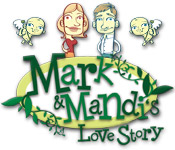 This is the online version of a game for download/purchase so it may have some features disabled or not have all levels available.
Edit:
Some of the other puzzles included that I have found so far:
-Spot the similarities (2 different pictures with things that are the same in them)
-Jigsaw puzzle
-memory match up